COPE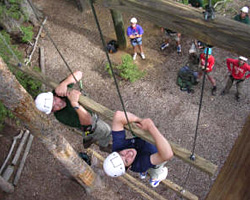 C.O.P.E., also known as Challenging Outdoor Personal Experience or Tahosa Challenge, is a program aimed at stretching teenagers and young adults both mentally and physically.
Part of the National C.O.P.E. program, Tahosa Challenge -- located at Camp Tahosa -- encourages teenagers and adults to expand mental creativity, increase physical abilities, promote leadership skills and instill personal confidence. Not for the weak of heart, the program is geared to those who seek challenges and are ready in size and self-discipline to undergo the rigors of the course.
As a participant you will take the lead in solving "people puzzles" while you swing, jump, climb, lift, balance, rappel and belay yourself and your team through a series of activities of increasing difficulty. By the end of the weekend you will be amazed at how well you have overcome your fears and how confident you have become in your abilities.
The Challenge is located at the Denver Boy Scout's high adventure camp, Camp Tahosa, at the foot of the Indian Peaks Wilderness Area. Approximately 20 miles west of Boulder, Colorado, the camp's 300 acres of woodland sits at 9,000 feet in elevation. With comfortable sleeping arrangements, hearty meals prepared by the Challenge staff, and a weekend filled with challenges and fun, what more could you ask for?

Project C.O.P.E. is a program aimed at strengthening Scouts both mentally and physically. It is also designed to promote teamwork and foster leadership abilities. Participants will spend the weekend in teams; swinging, jumping, climbing, lifting and rappelling as they go through our low and high ropes course. Along the way, teams will be asked to solve "people puzzles," which increase in difficulty as the course progresses.
To check which sessions are full, please see the 2018 C.O.P.E. Available Spaces Report.
Download the 2018 C.O.P.E. Registration Form.
Dates for 2018 C.O.P.E.
For specific questions about the C.O.P.E. program, please contact the COPE Co-Chairman.