Okpik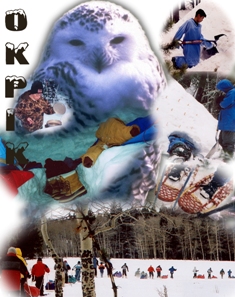 Embark on the greatest winter camping adventure that will ever challenge you as a Boy Scout. Okpik will give you the skills to go where few dare. Established in 1986 at Camp Tahosa in Ward, Colorado, the Denver Area Council's Okpik Winter Camping is ready for you! Check out this cool video of what you will experience at Okpik!
This two day and two night adventure develops confidence and skills in camping and living in the outdoors during extreme weather conditions. Receive training in physical preparation, cold weather dress, first aid and emergency procedures, food and water, equipment use while experiencing cross-country skiing, snowshoeing and winter shelter building. This experience is the embodiment of the Boy Scout's motto to "Be Prepared" .
Okpik is state-of-the-art training to give leaders, (both youth and adult), confidence in taking groups into a cold environment and support a year-round camping program. Our cold weather training is appropriate only for those leaders and campers who already have basic Scouting skills and mild weather camping experience. Our training includes skills that can ensure a successful, fun and safe cold weather camping experience. These must know skills are important because cold weather camping mistakes can be serious and certainly are not something upon which to build young Scout's experience.
Units enrolled for a training weekend should plan to arrive at Camp Tahosa no later than 6:30 p.m. on the Friday night of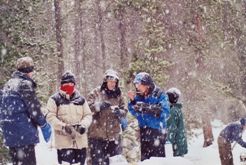 their weekend. Friday night is spent in a classroom setting where the Okpik staff will give instructions in cold weather camping and then you'll spend the first night in a cabin. On Saturday morning after breakfast, everyone packs up and moves into the backcountry. The day is spent building quinzees (piled snow domes), cooking meals and exploring the winter woods. The experienced Okpik staff will stay in the field during the weekend observing and supervising you as you use the skills taught on Friday night. After spending a night in the quinzees you built, we return to the Dining Hall for a wrap up session. The course will end after lunch on Sunday, approximately 12:00 Noon.
Be sure to examine the Okpik equipment list carefully. Every required item must be brought with you. We do provide some supplemental clothing and bedding items, but each participant must provide the essentials. (The equipment list is also in the registration packet.) A full and varied menu is provided, so it is not necessary to bring any food or snacks.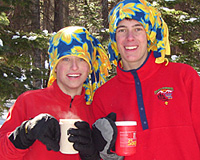 Okpik Winter Camping is a very strenuous weekend. All of your gear and food for the weekend is pulled on sleds, most of the day is devoted to shelter building and it can be very cold. Youth should have the size and maturity to complete and enjoy the weekend. All participants should do physical training to condition themselves for a very invigorating and challenging weekend. The Okpik staff will provide a course regardless of the snow conditions. There will be no cancellations due to the weather (lack of snow). Depending on the snow conditions, be prepared to ski or backpack into the backcountry.
The 2017 season ended with a record number of participants enjoying a true winter camping experience. Thanks to all of our wonderful volunteers, led by Chairmen, Stewart Layhe for their outstanding work this past season. Online sign up for the 2018 Okpik season will begin on October 6, 2017 at 8:00 a.m. and tends to fill up by the end of October! Contact the Okpik Chairmen, Stewart Layhe for more information.
OKPIK is not for the faint of heart and offers more experienced Scouts a chance to try their hand at extreme winter camping. Participants will pull their gear along in toboggans as they cross-country ski into the wilderness for a weekend of snowy fun. Under the supervision of our trained staff, Scouts will build and sleep in a quinzee, learn important winter survival skills and find out what it takes to camp in one of the most extreme environments possible.
To check which sessions are full, please see the 2018 Okpik Available Spaces Report.
Download the 2018 Okpik Registration Form.
Dates for 2018 Okpik Season:
Pre-Course Information
We welcome you to our Okpik program, we know that you'll have a great weekend. To make the most success of the weekend everybody needs to do some preparation. Please review the following presentations so that you know what to bring with you, what to wear and how to build your quinzee.
Essential Guides
National Outdoor Leadership School (NOLS) educational videos
Essential Information on Building a Quinzee