For Community Organizations
All our programs
Welcome and accommodate those with special needs.
Offer character building, learning of life skills, confidence building and social opportunities.
Promote values such as friendliness, helpfulness and community service among their members.
We are pleased to collaborate with other community agencies that serve youth with special needs. How can we partner with you?
We encourage Denver area youth with special needs to join Scouting. The Special Needs District will work with you, parents, and others to find the most suitable Scouting unit for your youths.
Our youths engage in service projects as part of their programs and rank advancements. Can we possibly connect you with some youths to assist you with an event or project?
Would you like your organization added to our online resource lists?
Can you offer insight and advice as to how we might better serve youth with special needs?
Can we present you with information about special needs and Scouting?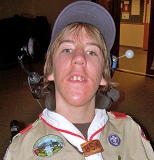 Please contact us with your questions and suggestions and we will promptly respond!