For Parents and Youth
Selecting a Unit
All scouting programs offer character building, the learning of life skills, confidence building and social opportunities. So, what is the best fit for your youth's personality and particular needs?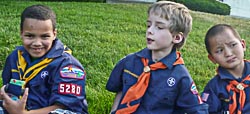 For children through the fifth grade, the Denver Area Council offers two options, Cub Scouts and Learning for life. The Cub Scouts are specifically for boys, similar to the Boy Scouts and providing a natural path to the Boy Scouts. The age of participation in Cub Scouts may be extended for those whose special needs require it. Learning for Life on the other hand is a coed program that complements a youth's schooling.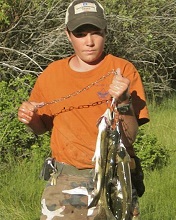 Following fifth grade it is possible to join the Boy Scouts (prior participation in Cub Scouts is not a requirement). This program is geared toward outdoor activities such as camping and hiking. These activities naturally build self-sufficiency and self-confidence. The Boy Scouts, like the Venturing and Varsity Scouts, cultivate leadership skills and are youth-run.
Venturing and Varsity Scouts provide coed programs for young adults from fourteen years of age. While Varsity Scouts cater for the athletic, Venture crews may or may not engage in a lot of physical activity depending on the specialty. A young adult who is unwilling or unable to engage in much exercise might perhaps join a Venture crew offering a specialty in chess. Generally, physical activities may be modified for individual needs.
Scouting programs and units also vary widely in their religious affiliation or lack thereof. Some units are sponsored by religious entities such as churches and may have a strong religious emphasis. Others may be non-denominational or sponsored by secular organizations, such as the Elks. Also, meetings may be held in a church building without requiring affiliation to that church or religion.
Scouting programs are not mutually exclusive. For example a youth might participate in Learning for Life and Boy Scouts at the same time. Likewise a Boy Scout can also belong to a Venture crew.
Once you have program(s) in mind, visit units in your area. The BeAScout.org web site will help locate units near you. Just select the tab for a program you're interested in and enter your zip code.
We encourage Denver area youth with special needs to join our Scouting programs. We'll gladly work with you to find the most suitable program for your boy or girl! We're generally available to work with leaders, parents and/or youths to help resolve special needs issues that arise throughout our council. If you have further questions after reading this, don't hesitate to contact us!
Depending on the needs of your youth, you may also want to contact the leaders of prospective units to discuss the needs of your youth and their potential fit with that unit and program. Let them know what those needs are and how much you would or would not want the adults and youth of the unit to know about your youth's individual needs, diagnoses and disabilities. The more information the leaders have, the better equipped they will be to assist your youth, help him/her to have a positive experience as a scout and ultimately have a successful career in scouting. Bear in mind the adult leaders must have enough knowledge about your youth's needs to act in your place (in loco parentis) when you aren't present in the event of a medical or other emergency.
Getting Started
The adult leaders of your unit are volunteers and may lack technical understanding of your youth's special needs. You may need to educate them about your youth's disabilities! If some adults are in medical or helping professions, they may be able to help provide that education and support for the rest of the unit.
Parental involvement, while not required, will enrich any youth's Scouting experience. That is all the more so for those with special needs. The more demanding those needs and the more support the youth requires, the more critical it is that attention can be assured. It does not have to come from a parent. It can come from other adult leaders; or another youth who is assigned to be a buddy and keep a watchful eye. However this requires planning with your participation--if not your active involvement. Part of that planning process will be to educate the scout leaders (and fellow scouts) as to how best to appropriately support your youth and his/her disabilities, sharing information as to what accommodations and modifications may be necessary to assist your youth. Our goal is for your youth to have positive, rewarding experiences in scouts, do our best as scout leaders to ensure his successful career in scouting and ultimately assist him on his path to Eagle Scout.